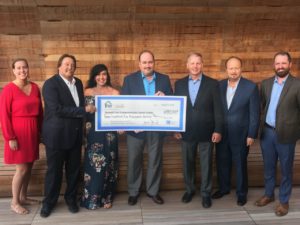 The Buffalo Niagara Builders' Association raised $305,000 to benefit Roswell Park as part of the 2018 Horizons Tour Homes through their Raising the Roof campaign.  Participating builders are dedicating a portion of the sale of their Home Show house to benefit the comprehensive cancer hospital.   Builders taking part include Alliance Homes, Essex Homes, Marrano Marc Equity, MJ Peterson/Tucker Homes, Natale Builders and Regency Builders.  These builders along with trade partners and home building professionals are committed to making a difference in the community through the Raise the Roof campaign.
Congratulations!
Highlight July 19-22 and 26-29 in your calendar for the 2018 Horizons Tour of Homes! 
2018's Tour will be bigger and better than ever. With more builders and houses spread across Erie county, there's sure to be something for everyone hoping to find the home of their dreams. The Horizons Tour of Homes features WNY's finest home builders showcasing luxury homes throughout Erie County. With the use of the ParadeCraze app, you'll be able to map out the homes, see color photos and plans, and interact with the builders through social media. Email us at bnba@bnba.org to learn more.
Click here For Information on Frequently Asked Questions 
Purchase Tickets Here
 A portion of the proceeds from this year's Horizons Tour of Homes are being donated to Roswell Park Cancer Institute through our Raising the Roof campaign. Over $250,000 has already been raised and we are asking you to join us in the fight against cancer by donating now!
Donate Now to Roswell Park Cancer Institute and Raise the