WORKERS COMPENSATION PROGRAM AVAILABLE
Through New York State Builders Association (NYSBA) which you are also members of, we are thrilled to announce that a new Workers Compensation program just became available for you to take advantage of.  This new program can cut your costs up to 25% with an upfront discount. Some of the highlights are below:
Enjoy the potential of dividends. Although not guaranteed, no policyholder has ever received less than a 20% return of premium and 2018 & 2019 group members were returned a 25%.
Be insured by NYSIF, which is the largest provider of workers' compensation in New York
Receive valuable advice from a reliable team of experts and reduce your long term costs and workplace safety with online training and educational resources.
Please visit the website to join. From this same website you can manage and report injuries as well once you join.
BUILD A HOUSE-GET CASH BACK
For Rebate forms click this link: Rebate Claim Forms, Over 50 Participating Manufacturers are Included.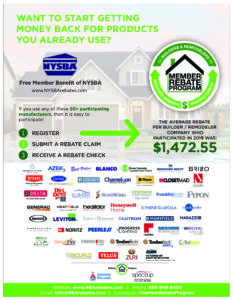 West Herr Discounts Available: